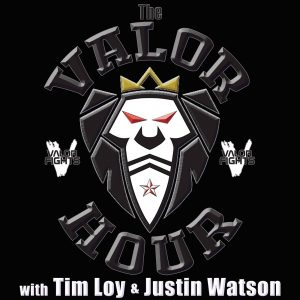 This week on The Valor Hour, Valor Fighting Challenge's matchmaker Tim Loy, Justin Watson, Greg Hopkins and Jeff Hobbs recap the action that took place last weekend at Valor FC 65 in Nashville.
Now before they get to recapping those fights, they kick off the show by discussing what happened last weekend at UFC Boston and preview Saturday's UFC Singapore.
Then they are joined by a pair of fighters that will be part of next week's Valor FC 66 as they chat with Paul Teague and Jason King. Teague previews his fight against Logan Neal, while King previews his matchup against Brian Jackson.
Following those interviews, the crew recaps and give their thoughts on what happened last Saturday night in Nashville at Valor FC 65. They break down all of the fights and have a discussion about the main event between David Robins and Charlie Alexander. After breaking down the main event, Robins joins the show to give his thoughts on his decision victory against Alexander.
Subscribe to The Valor Hour on Apple Podcasts, Stitcher, TuneIn Radio, and Google Play
Podcast: Play in new window | Download | Embed