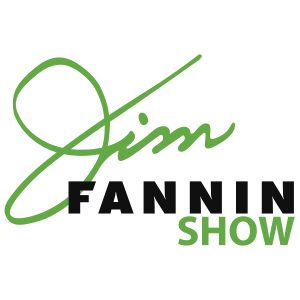 In this week's Jim Fannin Show that airs during the first round of the 2018 Masters Tournament, I discuss "What and who is a master?"
A master is extraordinary. This person is unique. This is a rare artist, performer or player of consummate skill. This individual is an expert at their craft. Typically, it's a person of the past whose work serves as a model or ideal.
A master has spent an inordinate amount of time and effort in honing his or her craft. They excel at the basics of their passionate work and fully understand all of the nuances that come with it. A window of mastery opened to this individual when experience, knowledge, skill and passion culminated at the same time. A relentless pursuit of excellence brought them to this place in time. Through a myriad of challenges, they remained true to the purity of their craft. These are the masters.
Who is a master? Think of Jimi Hendrix as he magically stroked his guitar. He felt the music and it exploded through his fingers to mesmerized audiences. The great guitarists that followed all dreamed of Jimi's riffs.
Think of painters Salvador Dali, Pablo Picasso, or Jackson Pollock. They permeate our visual senses with the delicate touch of their artist's stroke. When I helped launch the famous South Beach artist Romero Britto, it was Picasso that he emulated.
Emily Dickinson was a master of the English word. Her poetry stands the test of time as it invokes feelings of our own mortality. She has been recognized as one of the world's top 50 most influential women.
Ansel Adams captured the beauty of the American West with his amazing black and white photographs. One glance at his scenes of Yosemite National Park and you immediately think his name. Generations of photographers have tried in vain to capture his magic.
And remember Fred Astaire? How he graced the stage! He was a virtuoso dancer whose career spanned 78 years. He had technical control and an astonishing sense of rhythm. Rudolf Nureyev, Sammy Davis, Jr., Michael Jackson, Gregory Hines, Mikhail Baryshnikov all felt his influence. He made us all want to dance.
These are truly Masters.
This week, the 2018 Masters Tournament will be played. The best of the best golfers will arrive. Less than 100 men from around the globe will gather to test their craft in the tiny Georgia town of Augusta. One will be declared the Masters champion. Each contestant will leave Washington Road and turn onto Magnolia Lane to the world's greatest golf tournament at the Augusta National Golf Club. This memorable lane is 330 yards long and is adorned by 61 beautiful magnolia trees. For 35 years, I've traveled up this picturesque driveway. I know it well. Through this entrance the players will approach a 365-acre compound that encases the 18-hole course. This will be the player's canvas where they will attempt to paint a masterpiece.
But will the champion be a master?
The victor will place a white ball into 18 cups with the least amount of shots or strokes. The 7,435-yard course is spectacular with more than 80,000 plants of more than 350 varieties that adorn the Augusta National grounds but don't let the beauty fool you. Only a masterful performance on the treacherous and demanding course in front of the most knowledgeable spectator base in the world will wear the "Green Jacket" as the symbol of his mastery.
The following players won the Masters leading the tournament wire-to-wire. They are Craig Wood (1941), Arnold Palmer (1960), Jack Nicklaus (1972), Raymond Floyd (1976) and Jordan Spieth (2015). Each had a truly masterful performance. Did this distinction make them a master?
Trevor Immelman, Charl Schwartzel, Zach Johnson, Mike Weir, Vijay Singh, Angel Cabrera and Sergio Garcia all won here. They slipped on the Green Jacket. However, these one-hit wonders are not masters. In fact, there is only one master. Tiger, Phil, Gary and Arnie definitely are to be considered. However, if and when Tiger garners his 5th green jacket (after much adversity), I would associate master with his name. But for my money, there is only one that I would place next to Hendrix, Picasso, Dali, Jackson, Adams, Dickinson and Astaire.
Yes, it's Jack. It has to be Jack Nicklaus who won the Masters six times between 1963 and 1986. His 18 Major victories and his 73 official Tour wins have him standing alone. When the "moment of truth" arrives, the master works his craft. From behind the ropes, I watched him win in 1986.
I coached PGA Tour rookie John Cook in 1980. John's playing partner this particular day was Jack Nicklaus. The 2-iron was not friendly to Jack. I watched him butcher two of them during the round. Upon finishing, Cook and I went to the range to work. Jack later came to the range, plopped his bag down and proceeded to pull out his 2-iron. We watched in stunned silence as Nicklaus hit the 2-iron as pure as possible. It was majestic. One swing. Only one! He then placed his club back in his bag and left. He never said a word. The master appeared and then was gone in a matter of seconds. Witnessing this one practice shot was like watching a starving man eat just one potato chip. Not possible!
The good believe. The great expect. The master knows.
The memory of the "Golden Bear" still prowls the grounds of Augusta National. He influenced the current stars of today's game. The game's elite and the other wannabes all chase his legacy.
Jack Nicklaus was and still is a master for the ages.
In this week's episode, we glean an inside look from former PGA winner and notable Masters color commentator for CBS and Golf Channel, Frank Nobilo. Frank and I discuss this year's field and reveal who's hot, who's not and the keys to winning.
In this episode of the Jim Fannin Show, you will learn:
· How Tiger Woods can win this year's Masters.
· How Ian Poulter played Golf in the Zone to garner the final spot in the Masters
· The masterful story of this year's NCAA men's basketball tournament and how Villanova won it all.
· The "one word" ALL golfers need in order to play Golf in the Zone.
· The reason you should attend at least one Masters in your lifetime.
· How University of Illinois head coach Mike Small helped his men's golf team play in the Zone to win the prestigious 3M Augusta Invitational.
· What one thought each Masters' participant MUST avoid.
· How to have your greatest Q2 and April ever!
Also, I answer a coaching question from the "Ask Jim" Mailbag about a proven strategy to overcome apprehension and achieve peak performance during a job interview.
Finally, we place our order at the Zone Café, as we send you out for an awesome Zone week!
Be in the Zone™!
If you have questions, comments, or something you want us to cover during our "Ask Jim" segment, you can email Jim directly and we'll cover it on next week's show!
Don't forget to order Jim's new book, "The Blueprint: A Proven Plan For Successful Living" now at Amazon.com!
Ready to see results in every major area of your life in just 7-10 days? Get Jim's 90-Second Rule™ program, consisting of 6-hours of audio, write-able workbook and video. Click here: 90-second-rule
Make sure to follow Jim Fannin on Twitter and Facebook as well!
Check out more episodes of The Jim Fannin Show on Radio Influence!
Subscribe to the Jim Fannin Show on Apple Podcasts, Stitcher, Google Play, and TuneIn Radio and don't forget rate and review the show!
---
If you're seeking to be entertained and educated while you become your genuine, authentic best self, The Jim Fannin Show is your weekly, go-to place to be.
Jim Fannin is America's ZoneCoach®, coaching more champions in sports, business and life than anyone on earth for over 40 years. As one of the world's foremost thought leaders, he is more than a life, business or sports coach. He is a "change your life" coach. With the ONLY proven blueprint for attracting the Zone mindset, Jim has helped transform millions of people's lives by providing proven tools and techniques to create simplicity, balance and abundance.
Mr. Fannin has 40+ years of professional coaching, consulting and public speaking experience. He has coached 1000+ professional athletes from 10 sports and tens of thousands of individuals and hundreds of companies from 50 industries in peak performance. All have set personal records. Many have set team, industry or world records.
Each week Jim will focus the show on the peak performance mindset called the Zone. With his vast experience working with the best of the best, Jim will deliver the goods on who's currently IN the Zone, who's NOT and how you can find your own Zone pathway to success.
Jim's client list reads as a "who's who" list and his in-depth experience with their accomplishments are what set The Jim Fannin Show apart.
Jim Fannin has personally coached (to name a few):
Chairmen, CEOs, and Senior Executives from 350 of the Fortune 500 from 50 different industries
World's #1 pro golfer; 10 different pro golfers to their first victory; LPGA major Champion; 3 NCAA champions; 8 time Big Ten golf champions; World's #1 golf instructor
Olympic gold medalists
2 MLB Hall Of Famers; 5 MLB MVPs; 26 MLB All Stars; 4 Cy Young Award winners; NBA All Stars; NFL All Pros; World Cup players; MLS Cup champions; MLS MVPs
7 World's Top 10 pro tennis players; #1 pro from 16 different countries; 4x Wimbledon Doubles champion; World Davis Cup finalist;
French Open champion; 7 National Amateur champions; 12 State Amateur champions
NCAA All Americans from six different sports
NCAA Coaches Of The Year; MLB Manager Of The Year; NBA Coach Of The Year
World Champion Poker players
New York Times Best Selling Authors
Academy Award winning director
Actors, authors, screenwriters, musicians, opera singers, country singers, artists, scientists, politicians, and two entire American cities (for real)
Want to know how to attract the Zone? Download weekly to discover the pathway to your untapped potential as Jim guides you through the intricate process of peak performance. Listen, learn and be entertained as America's ZoneCoach, Jim Fannin reveals his 40-year secrets of success.
Podcast: Play in new window | Download | Embed