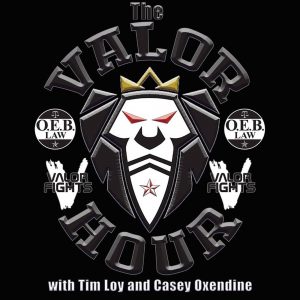 Tim Loy and Casey Oxendine are joined this week by Sawyer Rich and Allan Poole to recap what happened last Saturday night in Knoxville at Valor Fights 48.
Now before the guys get to what took place at Valor Fights 48, they preview Saturday's UFC 223. After they discuss the fights that will take place from the Barclays Center in Brooklyn, Tim answers listener questions about various mixed martial arts topics.
Up next is the interview portion of the podcast as they guys are joined by Ben Sharp and Rahman Howard. Sharp (12:48) recaps his victory from Valor Fights 48, while Howard (21:31) talks about the victory by his fighter, Martavious Mitchell.
Then it's on to the main event of this week's Valor Hour as Tim, Casey, Sawyer, and Allan recap what happened at Valor Fights 48. The guys discuss all of the fights that took place in Nashville and following the recap, Tim talks about some of the matchups that will be on the next Valor Fights card.
Thanks for listening and we would appreciate if you would like, and share the podcast with your friends.
Subscribe to The Valor Hour on Apple Podcasts, Stitcher, and Google Play
Podcast: Play in new window | Download | Embed