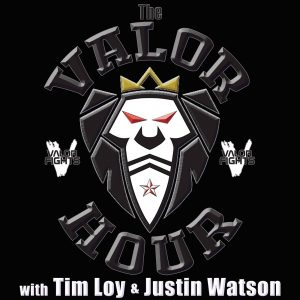 This week on The Valor Hour, Valor Fighting Challenge matchmaker Tim Loy, Justin Watson, and Greg Hopkins recap last weekend's Valor Fighting Challenge 56 at the Cotton Eyed Joe in Knoxville, TN as well as taking a look at the latest UFC news.
Lightweight Micah Downs kicks off the show fresh off of his victory over "The Sea Goat" Anthony Cochrane last weekend at Valor Fighting Challenge 56. He talks about the victory, what he was thinking going into the fight, being a relatively unknown fighter from a small town in Alabama, and kidding that he couldn't get beat by a guy nicknamed "Sea Goat."
Next, Titan FC Featherweight Champion Juan Puerta checks in before his title defense next Friday night in Ft. Lauderdale against the guy he won the title from, Gustavo Eddy Balart. Puerta talks about getting his start in the MMA game, being a finisher, how he beat Balart to win the title and what he intends to do in this fight, the beef between he and Balart, and going to high school with our very own, Greg Hopkins.
Coalton Dunn touches base to discuss his upcoming fight on April 5th against James Arden at Valor Fighting Challenge 57 at the Cotton Eyed Joe in Knoxville, TN. Coalton discuss his family lineage in the MMA game and growing up in the fight game around his mom Brandy Davis. He also talks about his last fight, a first round TKO of Javin Hill, the slobberknocker the first round of the fight was and his disappointment that Hill didn't come out of his corner for the second round, taking the fight on April 5th on short notice, and what his expectations are head into the battle with Arden.
The last guest of this week's show is CJ Tallent, who scored a big first round TKO over Chad Finnerty at Valor Fighting Challenge 56 last weekend. Tallent talks about his start in the fight game, knowing he was entering the fight as an underdog and relishing it, his long term goals, and more.
Finally, the guys recap the full Valor Fighting Challenge 56 card as well as UFC 235 and the questionable decision by Anthony Smith to continue the fight in the main event against Jon Jones after Jones hit him with an illegal knee. They also preview this Saturday night's UFC Wichita card.
Subscribe to The Valor Hour on Apple Podcasts, Stitcher, TuneIn Radio, and Google Play
Podcast: Play in new window | Download | Embed