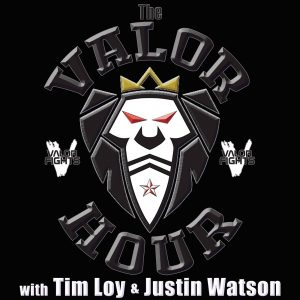 This week on The Valor Hour, Valor Fighting Challenge's matchmaker Tim Loy, Justin Watson, and Greg Hopkins recap last weekend's VFC 63 and take a look back at UFC 242 and preview UFC Vancouver.
First, "Stone Hands" Brian Jackson joins the guys to discuss his big submission win in his pro MMA debut over the then undefeated Caleb Miller at VFC 63. Jackson talks about his big the win was and how euphoric it's been since. Jackson, a former pro boxer, talks about the work he's put in on his ground game and defense, the difference in rounds in boxing and MMA, being ready for the longer fight, and how he didn't come to play. He also talks about how he's itching to get back in the cage and is gunning for the strap.
Next up, Jackson's training mate, Bradley Breakfield, touches base following his decision victory over "The Sea Goat" Anthony Cochran at VFC 63. Breakfield talks about thinking the fight was a lot closer than the judges had it, the change in altitude affecting him in the cage and not being able to breathe, knowing he was in some tough spots in the fight and battling back, winning the "Fight Of The Night" award, and more.
Subscribe to The Valor Hour on Apple Podcasts, Stitcher, TuneIn Radio, and Google Play
Podcast: Play in new window | Download | Embed