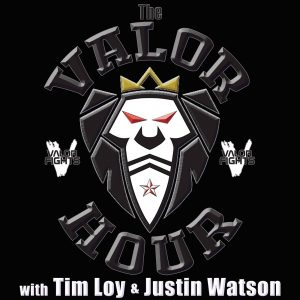 This week on The Valor Hour, Valor Fighting Challenge matchmaker Tim Loy is joined by the crew for their "Picks Panel" leading into Friday night's VFC 60: Fight Night At The Joe.
Before the guys get to VFC 60, Tim, Justin Watson, and Greg Hopkins recap UFC Stockholm and give a brief preview of UFC 238.
Then, Tim and Greg are joined by Mark Laws and Jeff Hobbs to give their thoughts on each fight of VFC 60.
Here's the card:
Bantamweight Thai – Nick Ferguson v Franklin Brown
Lightweight Advanced Thai – Jose Rodriguez v Joseph Long
Amateur Catchweight – Drew Czornohus v Darren Hastings
Amateur Lightweight – Anthony Rodriguez v Anthony Bryant
Amateur Catchweight – Robert Hall v Josh Miller
Amateur Featherweight – Dustin Morrison v Nick Wigley
Amateur Catchweight – Allen Miller v Parker Wadman
Amateur Catchweight – Akeem McAfee v Coalton Dunn
Amateur Bantamweight – Frank Thavonesiri v Jackson Donovan
Bantamweight Valor Title Fight – Caleb Austin v Amun Cosme
Grappling Catchweight – Keith Olson v Dylan DeAngelo
Pro Bantamweight – Jeremy Rogers v James Adcock
Co-Main Event: Catchweight – Nick Jewell v Greg Hopkins
Main Event: Lightweight – Daishaun Middleton v Arthur Walcott-Ceesay
Subscribe to The Valor Hour on Apple Podcasts, Stitcher, TuneIn Radio, and Google Play
Podcast: Play in new window | Download | Embed