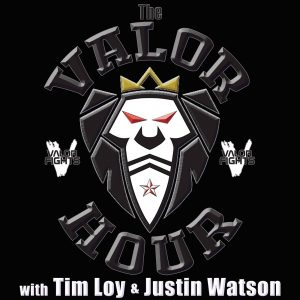 This week on The Valor Hour, Valor Fighting Challenge matchmaker Tim Loy is joined by Greg Hopkins and Justin Watson to recap UFC 234 and preview all of this weekend's UFC and Bellator action.
Before the guys get to their picks though, Chase Boutwell checks in with the guys to talk about his decision win over Corey Champion at the first Donald "Cowboy" Cerrone's Fight Series. He said that the fight was super close but that he wanted to take advantage of the pro rules against the former state champion wrestler. Boutwell went on to share what Cowboy Cerrone said to him after the fight and to say that his next fight will definitely be as a pro but he's taking a little time off to prepare.
Next up, Nick Martino joins the show to talk about his upcoming Main Event fight against Nick Gehrtz at Valor Fighting Challenge 56 at the Cotton Eyed Joe on March 1st. Martino says that he respects Gehrtz a ton, really admires his fighting style, and he knew that their paths would cross eventually. Martino adds that you can't blink when fighting Gehrtz because of his strong striking skills but when it comes to training for the fight, his main focus in on really improving himself as a martial artist. The "Battle Of The Nicks" is sure to be a lot of fun for the fans because both guys are coming into the fight to put on a show.
Christina Ricker chimes in to discuss her Invicta FC debut Saturday night against Caitlyn Sammons at Invicta FC 34. It's a very quick turnaround for Ricker as she just defeated Hayley Turner at Valor Fighting Challenge 54 on January 19th. She talks about her strategy and expectations heading into this fight against Sammons and how incredible her experience with Invicta FC has been.
Finally, the guys wrap up the show recapping last weekend's UFC 234 card and sharing their picks for both Bellator 215 and Bellator 216 as well as UFC Phoenix.
Subscribe to The Valor Hour on Apple Podcasts, Stitcher, TuneIn Radio, and Google Play
Podcast: Play in new window | Download | Embed