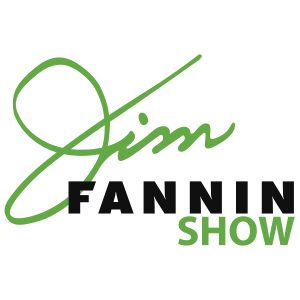 This Jim Fannin Show episode is all about programming your life, business, or sport for success. Unfortunately, just as easily you can insert a negative program that can wreak havoc on your good intentions.
Have you ever felt your stomach tie up in knots with worry as you picture something you don't want? How about seeing in your mind's eye every possible way a work or personal situation can go wrong? What about getting stuck in traffic as you mentally picture yourself being late to your appointment? As a golfer have you replayed a bad tee shot that led to your triple bogie finish on the last hole of play?
All of the above are examples of visualization, but not particularly helpful ones! Positive and negative images from your thoughts dictate your success or failure. From coaching Fortune 100 executives to Cy Young Award winning pitchers and PGA champions, one of my top priorities is to help my clients eliminate negative daydreaming and flood their mind with visual solutions and results so they can experience abnormal success.
Essentially, you have "two minds." The "conscious" mind is the one you know the best. This mind typically has 2000-3000 thoughts daily with each thought producing an image or picture in your mind's eye. The "conscious" mind utilizes all your five senses to assist in your daily life as your thoughts vacillate into the future and or past, as well as parking itself in the present. This mind knows right from wrong and good from bad. It contains all positive or negative thought. It is rational. Of course, when you sleep it shuts down and becomes dormant.
The subconscious mind operates 24/7 behind the scenes and never shuts down. It governs all bodily functions to include breathing, digestion, cellular repair, healing, cooling the body, growing fingernails and hair and much more. In addition, it governs your intuition and its ability to attract positive people that can help manifest solutions and other success possibilities. Likewise, it houses your ability to attract and remain in the Zone phenomenon of peak performance. It keeps your "operating system" running behind the scenes from breathing, blood manufacture in the bone marrow to digestion without your conscious mind ever saying, "suck in oxygen now!" The great news is that brain science and over 2,500 clients have proven that the subconscious mind can be programmed to "pull" you towards your well-defined dreams, visions and goals. For over 40 years my clients have done this with record success!
When a major league baseball player sits in a mental swamp of dread that he's going into a hitting slump, his body responds by tightening up and letting the perfect pitch sail by for a called strike. This is because his subconscious mind overrode his conscious mind so it can help him be true to the negative mental program he created. If you're thinking consciously as a victim of circumstance, condition or situation your subconscious mind will keep you as a victim. Conversely, when you visualize success on a regular basis, you program your subconscious mind to act as a master puppeteer that coordinates your conscious mind and physical body to work together literally to manifest into reality what you see in your mind's eye.
We visualize 60-70 % of our waking hours and we possess free will to picture anything we want. Why do we picture being a victim of negative circumstances, conditions and situations? Why do we envision failure especially when we have the power to envision success?
Champions think differently! They know visualization works to program their success. They know their subconscious mind does NOT know the difference between fantasy or reality. This means that with positive "free will" they can place anything on the screen of space of their conscious mind. With repetition and other proven performance techniques, these visualizations can and will manifest into their physical equivalent. Don't you think it's time to get on this positive, visualization pathway?
In this episode, I break down the four types of visualization: task, situational, symbolic, and aftermath. You need all of them and I discuss how each can be used for maximum results.
In this episode you'll also learn:
• How Serena Williams and her husband Alexis Ohanian proved themselves to be true champions in their relationship by getting Italian food. (Hint: it wasn't just any Italian food!)
• The In the Zone performance of St. Louis Cardinals infielder Matt Carpenter as he entered a Zone state to become the second major-leaguer ever to go 5-for-5 with three home runs and two doubles in a game.
• How one couple with no previous experience founded a non-profit organization that turns ocean trash into prosthetic limbs for children in developing nations.
• The reason the life of Alabama native Walter Carr was changed by his brave decision to walk 20 miles to his first day at a new job after his car broke down.
Also, I answer a question from the "Ask Jim" Mailbag about helping kids get out of "summer mode" and prepare for a Zone school year. (Send your question(s) to askjim@jimfannin.com).
Finally, as always, we place our order at The Zone Café as we send you out for an awesome Zone week!
BONUS AUDIO: Don't forget you have one more chance to take the 60-second survey. In exchange, we'll send you a FREE bonus episode with a proven tool to use when you're facing a seemingly insurmountable challenge. Thanks in advance for your feedback.
Don't forget that you only have one more chance to access a special bonus episode of The Jim Fannin Show, which won't appear in your podcast player. Simply take this 60-second survey, and I'll send you a tool that's been used by some of my top clients when facing their most serious challenges.
Be in the Zone™!
If you have questions, comments, or something you want us to cover during our "Ask Jim" segment, you can email Jim directly and we'll cover it on next week's show!
Don't forget to order Jim's new book, "The Blueprint: A Proven Plan For Successful Living" now at Amazon.com!
Ready to see results in every major area of your life in just 7-10 days? Get Jim's 90-Second Rule™ program, consisting of 6-hours of audio, write-able workbook and video. Click here: 90-second-rule
Make sure to follow Jim Fannin on Twitter and Facebook as well!
Check out more episodes of The Jim Fannin Show on Radio Influence!
Subscribe to the Jim Fannin Show on Apple Podcasts, Stitcher, Google Play, and TuneIn Radio and don't forget rate and review the show!
---
If you're seeking to be entertained and educated while you become your genuine, authentic best self, The Jim Fannin Show is your weekly, go-to place to be.
Jim Fannin is America's ZoneCoach®, coaching more champions in sports, business and life than anyone on earth for over 40 years. As one of the world's foremost thought leaders, he is more than a life, business or sports coach. He is a "change your life" coach. With the ONLY proven blueprint for attracting the Zone mindset, Jim has helped transform millions of people's lives by providing proven tools and techniques to create simplicity, balance and abundance.
Mr. Fannin has 40+ years of professional coaching, consulting and public speaking experience. He has coached 1000+ professional athletes from 10 sports and tens of thousands of individuals and hundreds of companies from 50 industries in peak performance. All have set personal records. Many have set team, industry or world records.
Each week Jim will focus the show on the peak performance mindset called the Zone. With his vast experience working with the best of the best, Jim will deliver the goods on who's currently IN the Zone, who's NOT and how you can find your own Zone pathway to success.
Jim's client list reads as a "who's who" list and his in-depth experience with their accomplishments are what set The Jim Fannin Show apart.
Jim Fannin has personally coached (to name a few):
Chairmen, CEOs, and Senior Executives from 350 of the Fortune 500 from 50 different industries
World's #1 pro golfer; 10 different pro golfers to their first victory; LPGA major Champion; 3 NCAA champions; 8 time Big Ten golf champions; World's #1 golf instructor
Olympic gold medalists
2 MLB Hall Of Famers; 5 MLB MVPs; 26 MLB All Stars; 4 Cy Young Award winners; NBA All Stars; NFL All Pros; World Cup players; MLS Cup champions; MLS MVPs
7 World's Top 10 pro tennis players; #1 pro from 16 different countries; 4x Wimbledon Doubles champion; World Davis Cup finalist;
French Open champion; 7 National Amateur champions; 12 State Amateur champions
NCAA All Americans from six different sports
NCAA Coaches Of The Year; MLB Manager Of The Year; NBA Coach Of The Year
World Champion Poker players
New York Times Best Selling Authors
Academy Award winning director
Actors, authors, screenwriters, musicians, opera singers, country singers, artists, scientists, politicians, and two entire American cities (for real)
Want to know how to attract the Zone? Download weekly to discover the pathway to your untapped potential as Jim guides you through the intricate process of peak performance. Listen, learn and be entertained as America's ZoneCoach, Jim Fannin reveals his 40-year secrets of success.
Podcast: Play in new window | Download | Embed