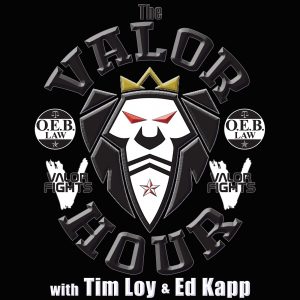 This week on The Valor Hour presented by O.E.B Law, Valor Fights President Tim Loy and Ed Kapp are joined by Mark Laws to recap last Saturday's Valor Fights 51 event in Johnson City, TN and to chat with Angel Natal, founder of M1 Global USA.
The guys open the show by answering your questions about where things stand following Valor Fights 51. They field questions on new Valor Fights Heavyweight Champ Chandler Cole and how surprised they were by his first round knockout of Aaron Bush, Cole Ferrell's total domination of veteran Joe Pegg, and the status of Charlie Alexander after suffering a broken hand during his bout.
Then, the guys visit with Angel Natal of M1 Global USA about bringing The Rage to the Global Mall in Nashville coming up August 11th. The card is headlined by "The Regulator" Reggie Pena (14-6) battling Douglas "Yamato" Usher (6-3) in a huge middleweight bout.
Finally, the guys wrap up the show by sharing their thoughts on the entire card of Valor Fights 51 and where things may be possibly headed.
Subscribe to The Valor Hour on Apple Podcasts, Stitcher, TuneIn Radio, and Google Play
Podcast: Play in new window | Download | Embed