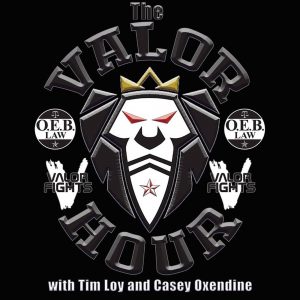 On this week's episode of "The Valor Hour," Tim Loy, Casey Oxendine are joined by special guest co-host Allan Poole and they have interviews with Shamir Peshewa, Emilee Prince, and Jonathan Pearce.
Before those interviews, the guys take a look back at last weekend's UFC fight cards as they recap The Ultimate Fighter 26 Finale and UFC 218. Following the recap of those fight cards, they look ahead to Friday's Invicta FC 26. Plus, they announce new fights for next month's Valor Fights 47 in Knoxville and Tim answers questions from the listeners of the podcast.
Then it's on to the interview portion of the podcast and up first, they bring in Shamir Peshewa (32:33) to make an announcement on what's next for her. After hearing the breaking news from Peshewa, they bring in Emilee Prince (43:02) to preview her fight on Friday at Invicta FC 26 against Kay Hansen. And in the final interview, they talk with Jonathan Pearce (51:30) about his matchup next week at Strikefest 2 against Nick Baker.
Thanks for listening and we would appreciate if you would like, and share the podcast with your friends.
Subscribe to The Valor Hour on Apple Podcasts, Stitcher, and Google Play
Podcast: Play in new window | Download | Embed