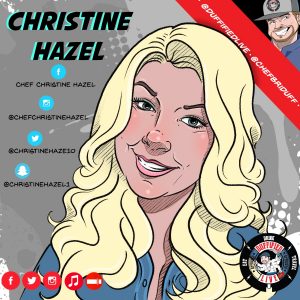 This week, Chef Brian Duffy chats with his friend, Christine Hazel. You might know her from Season 14 of Fox's "Hell's Kitchen" where she honed her craft and survived for 11 episodes. This experience raised her confidence and opened her mind creatively and now she's known for her inventive cuisine that puts modern twists on classic French and American dishes.
Currently, she is a Private Chef and Consultant who focuses on pop-up dining. She's also a culinary writer for Parle Magazine in New York City and Totally Driven Entertainment.
She is extremely passionate about fresh and innovative cuisine. Chef Hazel is very active in the community and has been doing events for the Kiehl's Life Ride for AMFAR (AIDS Awareness), Autism Speaks, PA Horticultural Society, Mums for Mutts (Philadelphia Animal Rescues), The United Way, Best of Style Philly, Philadelphia Moguls in Media (Women in Media), Taste of Philadelphia, Taste of Quarter (Tropicana Atlantic City) the Palisades Chef Tour and the Farm to Fork Series in Virginia.
Make sure to follow Christine on Facebook, Twitter, and Instagram!
Follow Chef Brian Duffy on Twitter and on Facebook.
Check out his website to learn more about him, to find his products, and some incredible recipes!
Listen to the Duffified Live show archive on Radio Influence!
Subscribe to the show on Apple Podcasts, Stitcher, TuneIn Radio, and now on Google Play and make sure to rate and review!
Podcast: Play in new window | Download | Embed