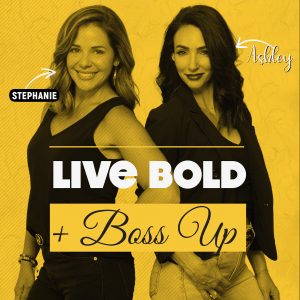 Steph & Ash discuss the secret to happiness. It's so easy to focus on the negatives, and let stress and unhappiness take over your life. What is true happiness and what little steps can you do every day to achieve that?

Boss Bites
Short-term happiness vs long-term happiness – both are good but the goal is long-term.
When a negative thought or feeling comes to you, try to think of the positive behind it then distract it.
Long-term happiness includes surrounding yourself with good people, love, doing fulfilling work (ie; volunteering or giving back), and being in a job you enjoy.
Take care of yourself – get enough sleep, eat healthy, & exercise.
Try to avoid things that you know cause negativity or trigger bad feelings.
Keep a gratitude journal.
If you are thinking negative or suicidal thoughts, talk to someone.
Follow us on Instagram to get the latest news and notes about the podcast!
Make sure to check out the Live Bold And Boss Up show archives at Radio Influence and subscribe to the show on Apple Podcasts, Stitcher, Google Podcasts, TuneIn Radio, the iHeartRadio app, and Spotify!
Podcast: Play in new window | Download | Embed