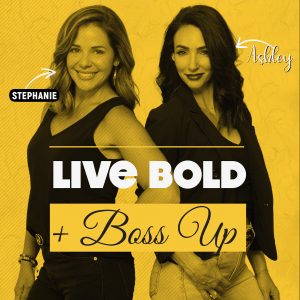 Steph and Ash sit down with one of their besties, Lauren Menendez, to talk about how she attributes being organized, assertive, and confident to the success she has today. Lauren is a licensed interior designer and account executive, CI Group, a restaurant owner of two awesome restaurants – Graze 1910 Armature Works and Graze South Tampa – and a stepmother to two with a new baby on the way.
How does she keep it together when shi*t keeps coming?!
Boss Bites
• Having a good culture & supportive leaders are hugely important in helping you be successful.
• Having confidence helps build trust. People will believe in you.
• Dress the part…know your client's environment, or if you are interviewing…know the environment you are stepping in to.
• When working with your spouse, it's important to stick to your roles and not cross lanes.
• Great life lessons start when you are young.
Follow us on Instagram to get the latest news and notes about the podcast!
Make sure to check out the Live Bold And Boss Up show archives at Radio Influence and subscribe to the show on Apple Podcasts, Stitcher, Google Podcasts, TuneIn Radio, the iHeartRadio app, and Spotify!
Podcast: Play in new window | Download | Embed