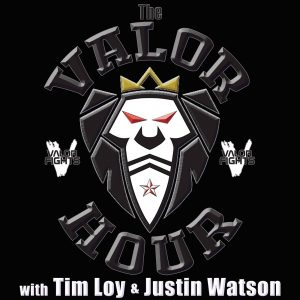 This week on The Valor Hour, Valor Fighting Challenge's matchmaker Tim Loy, Justin Watson, and Greg Hopkins take a look at UFC 247 and then are joined by Jeff Hobbs and "The Ninja Turtle" Paul Teague for the VFC 69 Picks Panel to preview every fight on the VFC 69: Fight Night At The Joe card on Saturday, February 8th at the Cotton Eyed Joe in Knoxville, TN. Get your tickets now!
Here's the full VFC 69 fight card:
Kickboxing Catchweight: Julio Osorio v Franklin Brown
Kickboxing Catchweight: Thomas Seabolt v Derik Overstreet
Kickboxing Catchweight: Derrick Smith v Garrett Sharp
Amateur Flyweight: Nick Ferguson v Ray Hewlett
Amateur Heavyweight: Hunter Kelley v Kevin Minard
Amateur Lightweight: Mary Rosenbeck v Rebecca Alcorn
Pro Catchweight: James Douglas v Cole Ferrell
Feature Bout -Pro Lightweight: Jason Wolf v Arthur Ceesay
Co-Main Event – Pro Bantamweight: Brigid Chase v Christina Adcock
Main Event – VFC Lightweight Championship: (C) Damir Ferhatbegovic v David Robins
Subscribe to The Valor Hour on Apple Podcasts, Stitcher, TuneIn Radio, Google Play, and now on the iHeartRadio app!
Podcast: Play in new window | Download | Embed