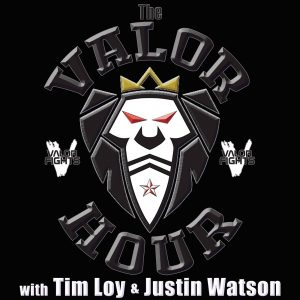 This week on The Valor Hour, Valor Fighting Challenge's matchmaker Tim Loy, Justin Watson, and Greg Hopkins chat with Carey Perkins, Lance Abbott, and Brian Jackson about their upcoming fights at Friday night's VFC 68 fight card happening at the Cotton Eyed Joe in Knoxville, TN.
Then, the guys are also joined by Jeff Hobbs and Paul Teague to preview the full night of action on their Picks Panel! Get your tickets for the event now!
Here is the full fight card for Friday night:
Josie Lunsford v Jazy Sergeant (Amateur Grappling Bout)
Quinn Hunter v Bronson Bzorgi (Amateur Catchweight Bout)
Bradley Breakfield v Jalen Harper (Amateur Featherweight Bout)
Jeremy Rogers v Dre Miley (Pro Catchweight Bout)
Paul Teague v Roy Sanders (Pro Welterweight Bout)
Moriel Charneski v Morgan Hickam (Pro Featherweight Bout)
Frankie Jones v Lance Abbott (Pro Cruiserweight Bout)
Feature Bout: Brian Jackson v Greg Hopkins (Pro Welterweight)
Co-Main Event: Carolyn Biskup v Olivia Parker (Pro Featherweight Bout)
Main Event: Carey Perkins v Billy Swanson (Pro Heavyweight Bout)
Subscribe to The Valor Hour on Apple Podcasts, Stitcher, TuneIn Radio, Google Play, and now on the iHeartRadio app!
Podcast: Play in new window | Download | Embed