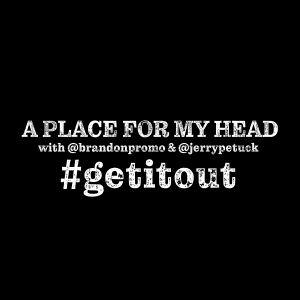 This week on A Place For My Head, hosts Brandon Thompson and Jerry Petuck talk about overcoming the stress of having something trigger destructive memories from your past, working through trust issues, and the never ending battle of finding balance in life.
Thanks for downloading and listening! If you enjoy what we do, please rate and review the show wherever you listen! We always love feedback!
If you feel you are in crisis, please call the National Suicide Prevention Lifeline at 1.800.273.TALK (8255).
Follow us on social media:
A Place For My Head: Website Facebook
Brandon Thompson: Facebook Instagram Twitter
Jerry Petuck: Facebook Instagram Twitter
Subscribe, rate, and review A Place For My Head on Apple Podcasts, Stitcher, TuneIn Radio, Google Podcasts, and Radio Influence.com!
Podcast: Play in new window | Download | Embed