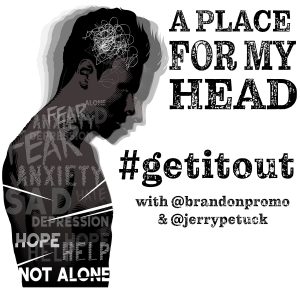 This week on A Place For My Head, Brandon Thompson chats with Nate Lastinger, a friend who has overcome an uber-religious childhood and subsequent substance abuse to find success.
Nate came from a Christian family who grew up wanting to be different in his own way. Along the path growing up in his teens, he felt alone inside his mind even though outside he seemed totally fine. Leading on in his late teens and early-20's, he went from helping people with drug addiction to doing any drug he knew just to feel something of happiness. By his mid-20's, he was out of drugs but used alcohol as a crutch, which has led him now to be in a stable place in life as he reached his late 20s into the 30s
Thanks for listening!
If you feel you are in crisis, please call the National Suicide Prevention Lifeline at 1.800.273.TALK (8255).
Follow us on social media:
A Place For My Head: Website Facebook
Brandon Thompson: Facebook Instagram Twitter
Jerry Petuck: Facebook Instagram Twitter
Make sure to visit the A Place For My Head website!
Subscribe, rate, and review A Place For My Head on Radio Influence, Apple Podcasts, Stitcher, TuneIn Radio, Google Podcasts, iHeartRadio, and now on Spotify!
Podcast: Play in new window | Download | Embed