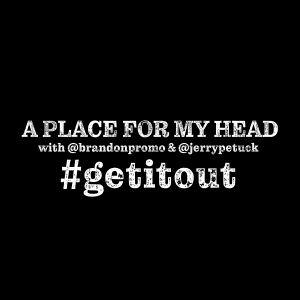 This week on A Place For My Head, hosts Brandon Thompson and Jerry Petuck explain why the show took such an abrupt break (it's on Petuck) and talk about what's been going on in their lives that caused the hiatus.
After that brief conversation, the guys share their thoughts on the stigma around people dismissing and blowing off their mental health. They talk about the dangers of self medication and the "I'm fine" attitude.
It's ok not to be ok. There are times in life where you're physically incapable of fixing yourself. It's ok to seek help for your mental health.
Thanks for downloading and listening!
If you feel you are in crisis, please call the National Suicide Prevention Lifeline at 1.800.273.TALK (8255).
Follow us on social media:
A Place For My Head: Website Facebook
Brandon Thompson: Facebook Instagram Twitter
Jerry Petuck: Facebook Instagram Twitter
Subscribe, rate, and review A Place For My Head on Apple Podcasts, Stitcher, TuneIn Radio, Google Podcasts, and Radio Influence.com!
Podcast: Play in new window | Download | Embed