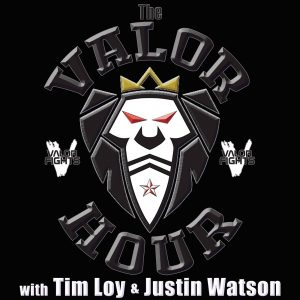 This week on The Valor Hour, Valor Fighting Challenge's matchmaker Tim Loy and Justin Watson recap all of last weekend's MMA action and look ahead to next weekend's VFC 65 fight card at the Nashville Fairgrounds Sports Arena in Nashville, TN.
After previewing UFC Tampa, Seth Sirgo joins the guys to discuss his training and preparation for his upcoming fight at VFC 65 at the Nashville Fairgrounds. He talks about his background, his expectations for his pro debut, and what he's been doing to get ready for Zac Ort.
David Robins, one half of the main event for VFC 65, checks in as he battles Charlie Alexander for the 155 strap. He talks about his last fight, the difficulties of fighting in C4's backyard, how this is a fight he's been really looking forward to, and how much he respects Alexander. He adds that while Alexander is really good, he feels he's the better overall fighter and the only finish he sees is a victory and a first round win would be even sweeter.
Finally, Tyler "Nyquil" Edwards touches base to talk about his fight against David Lewis at VFC 65. He talks about being from Lebanon, TN and fighting close to home, how got his nickname, Lewis' submission wins, some of the big fights he's been in, and what he expects to happen in the fight. He says that he may not be the main event but when it's all said and done, he'll be the people's main event.
Subscribe to The Valor Hour on Apple Podcasts, Stitcher, TuneIn Radio, and Google Play
Podcast: Play in new window | Download | Embed