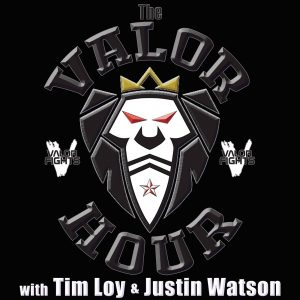 This week on The Valor Hour, Valor Fighting Challenge's matchmaker Tim Loy, Justin Watson, and Greg Hopkins recap UFC Vancouver, preview UFC Mexico City, and look ahead to next Saturday night's VFC 64: Fight Night At Soddy Daisy event.
First up, Logan Neal joins the guys to talk about his upcoming fight next week at next Saturday at VFC 64: Fight Night At Soddy Daisy where he battles Tanner Poe. Neal discusses being 3-0 in his last three fights, his training coming into this fight, battling back from an injury that kept him out for quite awhile, coming in as a big underdog, fighting at home, and his expectations for next weekend's fight.
"El Hefe" Terrance Hodges touches base to discuss his main event battle against "Big Sexy" Billy Swanson at VFC 64 in a heavyweight duel. This fight has been a few months in the making and with Hodges coming off a big win in just 40 seconds, it should be a slugfest. He talks about his last fight, transitioning from pro football to the cage, his training coming into next weekend's fight, coming in as the underdog, fighting in Swanson's backyard, and knowing what he's getting into.
Hodges' opponent, "Big Sexy" Billy Swanson, who is coming off a devastating loss in his last bout. He talks about what went wrong in that fight, how he's turned things around and changed up his training coming into the fight with Hodges, and he knows he has a lot to prove. He also says that Hodges is no different than any of his other opponents who question his jaw and yet haven't put him to sleep.
Finally, "Bloodaxe" Eric Olsen talks about his fight with Ian Stephens next weekend. While he beat John Hall in his last fight, he wasn't happy at all with his performance so he's coming into the fight looking to make an impact. He says it's going to be a fight, not a wrestling match. He talks about his recent fights in bare knuckle boxing, his training for the fight, his opinion that Stephens is a one dimensional fighter, and how fighting kept him out of prison.
Subscribe to The Valor Hour on Apple Podcasts, Stitcher, TuneIn Radio, and Google Play
Podcast: Play in new window | Download | Embed