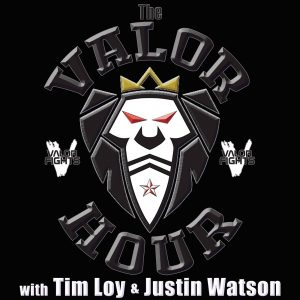 This week on The Valor Hour, Valor Fighting Challenge's matchmaker Tim Loy and Greg Hopkins preview VFC 63: Fight Night At The Joe coming up Friday, September 6th in Knoxville, TN, do a quick recap of Bellator 225, and look at this weekend's UFC Shenzhen.
First up, Caleb Miller joins Tim and Greg to talk about his upcoming fight against Brian Jackson at VFC 63 next Friday night at the Cotton Eyed Joe in Knoxville. He talks about his training for this fight, feeling quicker at 155 lbs, his expectations for the fight, respecting Jackson style, and having just a short turnaround after just fighting a little over three months ago.
Next up, the "Ninja Turtle" Paul Teague checks in with the guys to talk about his fight with Billy Combs next Friday. Teague talks about his MMA career and everything he's gone through getting to this fight, where his nickname comes from, the recent loss of his coach, his work with kids, and says the "Ninja Turtle 2.0 is coming out" for this fight and he's looking for make Dana White's Contender Series in the future.
Finally, the guys hook up with Stevean "Tank" Wilson Jr., who battles Alex Lewandowski at VFC 63. He talks about his fighting background as a high school wrestler which led to his MMA career. As far as this fight coming, Wilson doesn't sugarcoat things. He says he's coming for the knockout. Period.
Subscribe to The Valor Hour on Apple Podcasts, Stitcher, TuneIn Radio, and Google Play
Podcast: Play in new window | Download | Embed