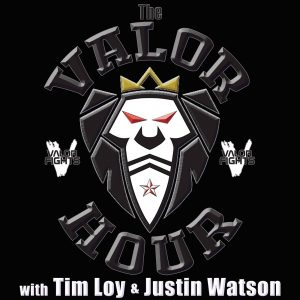 This week on The Valor Hour, Valor Fighting Challenge's matchmaker Tim Loy is joined by Justin Watson and Greg Hopkins to recap UFC 241 and chat with Taylor Turner before her fight Saturday night at Bellator 225, and Rebecca Bryggman.
Taylor Turner checks in to talk about the hype going into her fight this week against Alejandra Lara, the weight changes for the fight, living up to the expectations following her win over Heather Hardy in her last fight, the disrespect she's faced on social media, knowing her hometown group of friends have her back, and her expectations for the fight.
Finally, the guys are joined by Rebecca Bryggman, who battles Carmen Carbajal at VFC 63. Bryggman talks about her training for the upcoming fight, her expectations, and more. When we say "more," you'll have to listen to understand. You haven't heard anything quite like her before.
Subscribe to The Valor Hour on Apple Podcasts, Stitcher, TuneIn Radio, and Google Play
Podcast: Play in new window | Download | Embed