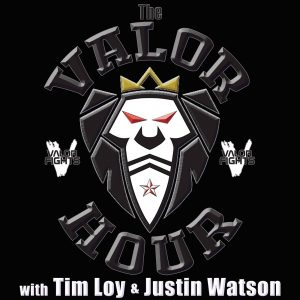 This week on The Valor Hour, Valor Fighting Challenge matchmaker Tim Loy and fight judge Justin Watson are joined by Arthur Walcott-Ceesay, who battles Daishawn Middleton at VFC 60 on June 7th at the Cotton Eyed Joe, and recap VFC 59 that happened last Saturday night at Smokies Stadium in Sevierville, TN.
The guys open the show chatting with the charismatic Arthur Walcott-Ceesay, who talks about his upcoming fight at VFC 60 against Daishawn Middleton. Walcott-Ceesay talks about his expectations for the bout, how he can fight any style that any fighter wants to come at with, how he's improved his striking, his short term and long term goals in the fight game, his alter-ego "DJ Bout It," how his given up everything to pursue his fight career, and how he's "looking to put on a hell of a show, build a fan base, and sell tickets."
Then, Tim and Greg are joined by Greg Hopkins, Mark Laws, and Jeff Hobbs to look back at last weekend's incredible night of fights at a wet and wild Smokies Stadium for VFC 59.
Subscribe to The Valor Hour on Apple Podcasts, Stitcher, TuneIn Radio, and Google Play
Podcast: Play in new window | Download | Embed