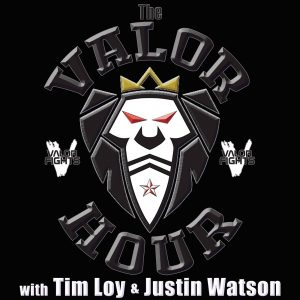 This week on The Valor Hour, Valor Fighting Challenge matchmaker Tim Loy and Greg Hopkins are back in the saddle to chat with bantamweight Cody Durden and look ahead to Saturday night's VFC 59 card of fights at Smokies Stadium in Kodak, TN.
The guys open the show chatting with Cody Durden, who talks about how he's trying to elevate his game and evolve as a fighter, attending a recent Bellator event and making a ton of connections that should help him go to the next level with a win Saturday, his expectations for the fight, and more.
Then, Tim and Greg are joined by Mark Laws and Jeff Hobbs to look back at VFC 58 and for their VFC 59 Picks Panel.
Here's the full card for Saturday night's VFC 59 event at Smokies Stadium:
Bantamweight – Kam Wallace v Anthony Rivera
Light Heavyweight – Justin Emmons v Gabriel Atkinson
Heavyweight – Robert Davis v Dale Dodds
Catchweight – Chris "The Sith" Lowe v Alex Lewandowski
Middleweight – Chris "No Love" Buttry v Drew Czornohus
Lightweight – Clay Malone v Andrew Sturdivant
Welterweight – Pat Johnson v Josh Miller
Welterweight – Billy "Two Tone" Combs v Caleb Miller
Strawweight – Anastasia Bruce v "The Valkyrie" Emilee King
Bantamweight – Jeremy Rogers v Cody Durden
Bantamweight – Diego Bautista v "Dreku" Dre Miley
Bantamweight – "Hurricane" Hope Chase v Morgan Hickam
Catchweight – Josh Steele v Chris Wolff
Light Heavyweight – "Bloodaxe" Eric Olsen v John Hall
Catchweight – Jordan Weeks v "The Bosnian Barncat" Damir Ferhatbegovic
Co-Main Event: Catchweight – Taryn Conklin v Olivia Parker
Main Event: Welterweight – James Conway v David "Ruthless" Robins
Subscribe to The Valor Hour on Apple Podcasts, Stitcher, TuneIn Radio, and Google Play
Podcast: Play in new window | Download | Embed