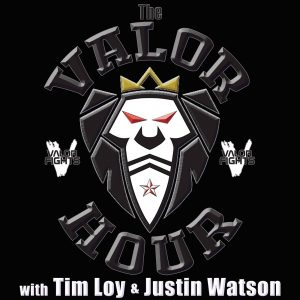 Busy show this week on The Valor Hour as Valor Fighting Challenge matchmaker Tim Loy, Justin Watson, and Greg Hopkins recap UFC Philadelphia, talk to Emory Norred and Carter Beekman who battle each other Friday at Valor Fighting Challenge 57: Fight Night At The Joe in Knoxville, and preview the full fight card for VFC 57.
Emory Norred, one half of featured amateur welterweight bout at VFC 57 against Carter Beekman, joins the show to talk about the process of getting ready for this fight. He fills you in on how he got his start in MMA following a collegiate football career at the University of Tennessee-Chattanooga. Norred enters the fight 2-0 but just had his first fight less than a year ago. He's been training for his future in MMA for quite sometime dating back to his days as a wrestler in high school. He talks about his preparation for the fight against Beekman, his expectations, being versatile, and how he's feeling very comfortable heading into to Friday night's battle.
Next up, the other half of that fight joins the show as Carter Beekman checks in to talk about the fight against Norred. Beekman talks about how he got started in MMA as a wrestler in middle school and high school and as a street fighter. He said he's always been around 170 lbs so he's comfortable and ready to rock for this fight. Beekman says he's a ground and pound fighter and expects a slugfest against Norred. He shares his expectations for the fight, talks about picking up the pace and being very aggressive, and he's ready for Norred's Muay Thai strikes.
Finally, the guys recap UFC Philadelphia and then are joined by Mark Laws, Jeff Hobbs, and Roy Sanders for their VFC 57: Fight Night At The Joe picks panel.
Here is the full card:
Jacob Hatfield v Briven Sullivan
Cody Linder v William Burnette
Lance Tweedy v Amun Cosme
Tanner Poe v Elijah Gilbertson
Jake Norris v Darren Hastings
O'Dell Anderson v Dennis Cody Smith
Coalton Dunn v James Arden
Emory Norred v Carter Beekman
Andrew Sturdivant v Silas Reynolds
Ashley Samples v Emilee King
Anastasia Bruce v Taylor Turner
Jason Wolf v David Robins
Main Event – Gina Elliott v Shamir Peshawa
Subscribe to The Valor Hour on Apple Podcasts, Stitcher, TuneIn Radio, and Google Play
Podcast: Play in new window | Download | Embed