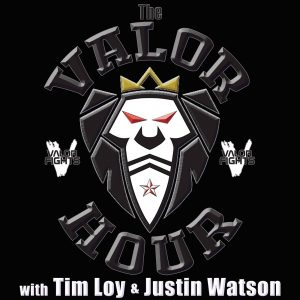 This week on The Valor Hour, Valor Fighting Challenge matchmaker Tim Loy, Justin Watson, and Greg Hopkins open the show chatting with Andrew Sturdivant, who battles Silas Reynolds for the vacated Featherweight Championship in the amateur main event at VFC 57: Fight Night At The Joe on April 5th in Knoxville, TN.
Andrew talked about getting his start in MMA following a successful high school wrestling career where he qualified for States twice. He talked about his win against Garrett Sharp at VFC 55 and how he "found himself" during that fight. Everything seemed to come together for him during the fight and it all just clicked. He then about how he's training and preparing for Silas Reynolds and he's just going to fight his fight and not do anything really different. Both guys are looking to get a finish so it should be a phenomenal matchup.
Then, the guys recap all the action from UFC Nashville and look ahead to UFC Philadelphia Saturday night at the Wells Fargo Center headlined by Edson Barboza and Justhin Gaethje.
Subscribe to The Valor Hour on Apple Podcasts, Stitcher, TuneIn Radio, and Google Play
Podcast: Play in new window | Download | Embed