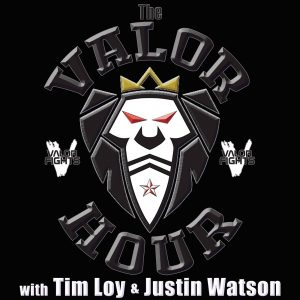 This week on The Valor Hour, Valor Fighting Challenge matchmaker Tim Loy and Justin Watson are joined by Jeff Hobbs and Greg Hopkins to recap last weekend's MMA, preview this weekend's MMA and they have conversations with Valor Fighting Challenge 56 fighters "Slick" Nick Gehrts and "C4" Charlie Alexander.
At the beginning of the show, Tim brings on "Slick" Nick Gehrts to preview his fight against Nick Martino in the main event of next week's Valor Fighting Challenge 56. Following the conversation with Gehrts, Tim brings in "C4" Charlie Alexander to discuss his fight against Jordan Weeks in the co-main event of Valor Fighting Challenge 56.
After the interviews, the guys take a look back at what happened last weekend at Bellator 215, Bellator 216 and UFC on ESPN 1. They give you their thoughts on what happened on those fight cards and then they preview this weekend's Bellator 217 and UFC on ESPN+ 3. They give their picks for the events and tell you about a listner contest for Saturday's UFC fight card.
Subscribe to The Valor Hour on Apple Podcasts, Stitcher, TuneIn Radio, and Google Play
Podcast: Play in new window | Download | Embed