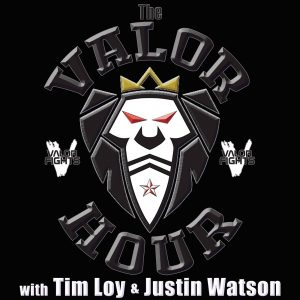 This week on The Valor Hour, Valor Fighting Challenge matchmaker Tim Loy and Justin Watson kick off the show discussing UFC 232's move from Las Vegas to Los Angeles due to the Jon Jones situation with USADA. Controversy seems to just follow this guy and the Nevada Sports Commission will not clear him to fight. California has cleared him to fight but the fact that things are at this level late in the game is just insane. There seems to be conflicting stories as to what is really going on with the USADA tests that Jones tested positive for. More importantly, the situation just sucks for the other fighters on the card and the fans who have already purchased plane tickets and hotel rooms to spend the New Year's weekend in Vegas.
They then move into their interview portion of the show as they chat with the husband and wife tandem of Christina Ricker and James Adcock about their upcoming fights at Valor Fighting Challenge 54 in Knoxville, TN on January 19th. Ricker is battling Hayley Turner and Adcock battles Brandon Grimmett. Adcock talks about not being comfortable fighting at 135lb and how his prep is coming together for the fight. Ricker talks about finally getting to fight as a pro at home after being an amateur and how tough the fight is going to be. It's also the first time that a husband/wife combo has been on the same fight card.
Reigning M1 Global World Featherweight champ Nate "The Train" Landwehr then joins the show to talk about his big win at M1 with a third round TKO over Andrey Lezhnev. He said fighting him is simple, "either finish me or get finished. Period." He also says that he's got one fight left with M1 and then you never know what could happen in regards to the UFC.
Then, the guys get back to UFC 232, preview the full fight card, and share their picks (full card listed below) and wrap up with their "Best of 2018" Year End Awards for Valor Fights.
Here is the entire UFC 232 fight card:
EARLY PRELIM CARD (UFC FIGHT PASS)
Bantamweight: Brian Kelleher v Montel Jackson
Welterweight: Curtis Millender v Siyar Bahadurzada
Middleweight: Uriah Hall v Bevon Lewis
Bantamweight: Andre Ewell v Nathaniel Wood
PRELIM CARD (FS1)
Lightweight: BJ Penn v Ryan Hall
Bantamweight: Douglas Silva de Andrade v Petr Yan
Women's Featherweight: Cat Zingano v Megan Anderson
Heavyweight: Andrei Arlovski v Walt Harris
MAIN CARD (PPV)
Featherweight: Chad Mendes v Alexander Volkanovski
Light Heavyweight: Ilir Latifi v Corey Anderson
Welterweight: Carlos Condit v Michael Chiesa
Co-Main Event: Women's Featherweight Championship: Cris Cyborg (c) v Amanda Nunes
Main Event: Light Heavyweight Championship: Jon Jones v Alexander Gustafsson
Subscribe to The Valor Hour on Apple Podcasts, Stitcher, TuneIn Radio, and Google Play
Podcast: Play in new window | Download | Embed