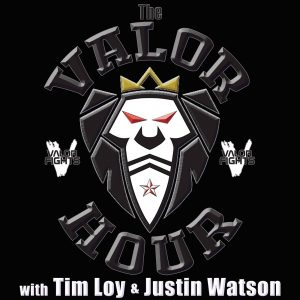 This week on The Valor Hour, Valor Fighting Challenge matchmaker Tim Loy and Justin Watson start the show recapping last weekend's UFC Beijing card as they look back to see how their picks for the card played out. Also, before getting to UFC fighter Jason Knight, they guys also share their thoughts on the Chuck Liddell/Tito Ortiz fight from last weekend as well.
Next, they chat with UFC featherweight fighter Jason Knight, who is not only overcoming a loss to Jordan Rinaldi at UFC 230 but also a horrible case of strep throat, discusses the Rinaldi loss and what his gameplan was going into the fight. He said that he never wanted to get into a wrestling match with Rinaldi but that's just the way the fight went. He also discussed his future with the UFC, how many more fights remain on his contract, possibly changing weight classes, the new gym he's opening in his hometown, how he stays grounded at home, and so much more.
Finally, the guys are joined by Greg Hopkins to preview and share their picks for The Ultimate Fighter 28 Finale and UFC Fight Night 142 on Saturday.
Subscribe to The Valor Hour on Apple Podcasts, Stitcher, TuneIn Radio, and Google Play
Podcast: Play in new window | Download | Embed