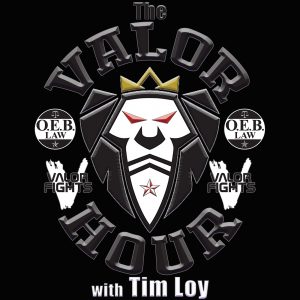 This week on The Valor Hour presented by O.E.B Law, Valor Fights President Tim Loy is joined by fight judge Justin Watson and Mark Laws to recap last weekend's UFC Sao Paulo and to look ahead to Saturday's Bellator 206. Plus, they are joined by nutritionist Tyler Minton and Knoxville Mixed Martial Arts head coach Eric Turner
At the beginning of the podcast, they take a look back at what happened last Saturday night at UFC Sao Paulo. They breakdown the entire fight card, they you how they did in their picks last week and what could be next for main event fighters Thiago Santos and Eryk Anders.
After they wrap up those fights, they give their reaction to last week's UFC press conference in New York City with Conor McGregor and Khabib Nurmagomedov. Up next is their conversation with Tyler Minton, who speaks about his time in mixed martial arts. He talks about how he got his start in the fight game, how he ended up becoming a nutritionist and shares a story about working with Daniel Cormier.
Following the conversation with Minton, Eric Turner comes on the show to discuss all things going on with him and his gym, Knoxville Mixed Martial Arts. He speaks about being in Canada last week, being part of a wedding, and previews Ovince St. Preux's fight next week at UFC 229. And in the final portion of the show, the guys take a look at Saturday's Bellator 206 and tell you their picks for the fight card.
This episode of The Valor Hour is brought to you by Vivid Seats. Vivid Seats is an online event ticket marketplace dedicated to providing fans of live entertainment with experiences that last a lifetime. Go to the App Store or Google Play and download the Vivid Seats app. Enter promo code INFLUENCE to receive 10% off your first purchase with Vivid Seats.
Subscribe to The Valor Hour on Apple Podcasts, Stitcher, TuneIn Radio, and Google Play
Podcast: Play in new window | Download | Embed