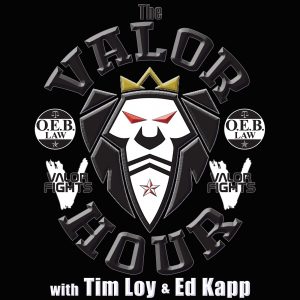 On the 70th episode of The Valor Hour, Valor Fights President Tim Loy is joined by Ed Kapp, Mark Laws, and Allan Poole to answer listener questions. Plus, they have interviews with Cole Ferrell, Christina Ricker, Jason King, and Aaron Bush preview Valor Fights 51.
The guys kick off the show by answering your questions about this weekend's UFC 226 main event between Stipe Miocic and Daniel Cormier, the announcement of a Tito Ortiz vs. Chuck Liddell fight, and more.
The smack talkin' undefeated Cole Ferrell joined the guys next. He's battling "Smokin'" Joe Pegg at Valor Fights 51 on July 21st in Johnson City, TN. He talks about his last Valor Fights appearance back on October 21, 2017 where he choked out Latrel Purdue just 22 seconds into the fight. He says that although Pegg is a friend and is a really good guy, business is business and he will end in the fight in the first round.
Christina "Roadhouse" Ricker checks in next. She's having her first straight Muay Thai fight at Valor Fights 51 as she battles Julia Moore. She recaps her last fight MMA fight, a win against Megan Poe at Valor Fights 49, and talks about the difference in training for an MMA fight as opposed to having to tightening up her striking for her Muay Thai debut.
"The Asian Persuasion" Jason King joins the show next coming off of a very controversial loss to James Conway a few weeks ago at Valor Fights 50. King talks about the early stoppage in the fight and how he's ticked off about it but he has to look forward to his next fight at Valor Fights 51. He says that even though he's battling Jon Hughes, it doesn't matter to him who his opponent is because no one can stand toe to toe with him. He's been focusing a lot more on his wrestling skills in training and wants to be known as an all around fighter as opposed to just a striker.
Finally, Aaron Bush touches base with the boys to talk about his upcoming heavyweight title shot against Chandler Cole in the main event of Valor Fights 51.
Subscribe to The Valor Hour on Apple Podcasts, Stitcher, TuneIn Radio, and Google Play
Podcast: Play in new window | Download | Embed