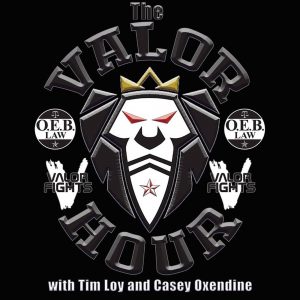 This week on The Valor Hour, Casey Oxendine and Tim Loy of Valor Fights are joined by Mark Laws and Allan Poole to discuss head gear and combat sports. Plus, they have four interviews on this week's podcast as they are joined by Zak Ottow, Lindsey Jones, Chel-C Bailey, and Kelly D'Angelo.
At the beginning of this week's podcast, the guys look ahead to this weekend's mixed martial arts action as they discuss Friday's LFA 36 on AXS TV and Satruday's Invicta FC 28 on UFC Fight Pass. Then it's on to the weekly Q&A segment as Tim answers listener submitted questions and one of the questions he answers is about which fight at next week's Valor Fights 48 might be flying under the radar.
Then it's on to the interview portion of the podcast and up first is UFC welterweight Zak Ottow (16:15), who is coming off a big win earlier this month at UFC 222 against Mike Pyle. Zak talks about the victory, his experiences fighting in different parts of the world, and being a promoter in the Milwaukee area. Following the chat with Ottow, Valor Fights 48 headliner Lindsey Jones (27:02) joins the podcast to discuss his matchup against Robert Hale. Jones admits that he listened to what Hale stated on last week's podcast and he discusses what he will need to accomplish next week to get the victory.
After their conversation with Jones, Chel-C Bailey (35:51) joins the program to discuss her matchup next week against Kelly D'Angelo. Along with previewing her matchup against D'Angelo, Bailey tells the crew about her experience on The Ultimate Fighter 23. And speaking of D'Angelo (43:20), she is the final interview on this week's podcast as she talks about the matchup against Bailey.
After wrapping up the interviews, it's main event time and the crew has an interesting conversation about head gear in combat sports. Tim, Casey, Mark, and Allan offer a unique look into this topic on whether or not head gear should be required in a fight.
Thanks for listening and we would appreciate if you would like, and share the podcast with your friends.
Subscribe to The Valor Hour on Apple Podcasts, Stitcher, and Google Play
Podcast: Play in new window | Download | Embed