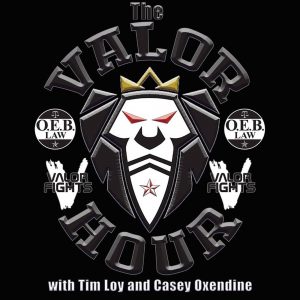 Valor Fights 47 took place last week in Knoxville, Tennessee and this week's episode of "The Valor Hour" takes a look back at the card plus the guys have interviews with Shay Holland and Dustin Koppel.
At the beginning of the podcast, Tim Loy answers listener questions submitted on the Valor Fights social media accounts and one of the questions involves when Valor Fights is looking to head back to Knoxville following Valor Fights 47. Then it's on to the interview portion of the podcast as they chat with Holland (6:50) about her victory at Valor Fights 47 and Koppel (14:04) about his upcoming grappling show, Tennessee Top Roller.
Following the interviews, Tim and Casey Oxendine chat with Mark Laws and Allan Poole about the 2017 year-end awards for Valor Fights, which was voted on by the fans on Facebook. After discussing all of those awards, the guys welcome in Jeff Hobbs, Sawyer Rich, and Roy Sanders to recap what happened at Valor Fights 47.
Thanks for listening and we would appreciate if you would like, and share the podcast with your friends.
Subscribe to The Valor Hour on Apple Podcasts, Stitcher, and Google Play
Podcast: Play in new window | Download | Embed