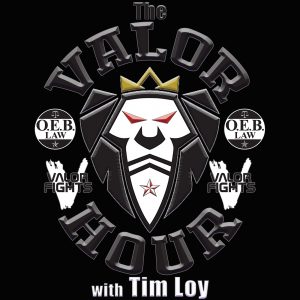 This week on The Valor Hour presented by O.E.B Law, Valor Fights President Tim Loy is joined by fight judge Justin Watson and Mark Laws to recap last weekend's UFC Moscow and to look ahead at the entire card of this weekend's UFC Brazil event. They look to avenge their horrible picks from last week with their take on this weekend's fights.
Then, the crew is joined by Christina "Roadhouse" Ricker, who has her first pro fight this weekend in the main event of BFL 57 against Jamie Lynn Horth. She said that she hasn't really changed her training at all to fight longer rounds and with different rules for her pro fight because she's always trained as a pro fighter so there's isn't an adjustment to be made. While she admits she doesn't know much about her opponent, she says they've come up with a game plan and she's ready to rock.
Then, the guys catch up with the M! Global Featherweight Champion, Nate "The Train" Landwehr. Landwehr talks about fighting in Russia, his opponent not making weight, his thoughts on a possible future in UFC, and so much more.
The guys wrap up the show with a MAJOR announcement about the future of Valor Fights as well as the announcement of the next Valor Fights event coming up in November.
This episode of The Valor Hour is brought to you by Vivid Seats. Vivid Seats is an online event ticket marketplace dedicated to providing fans of live entertainment with experiences that last a lifetime. Go to the App Store or Google Play and download the Vivid Seats app. Enter promo code INFLUENCE to receive 10% off your first purchase with Vivid Seats.
Subscribe to The Valor Hour on Apple Podcasts, Stitcher, TuneIn Radio, and Google Play
Podcast: Play in new window | Download | Embed