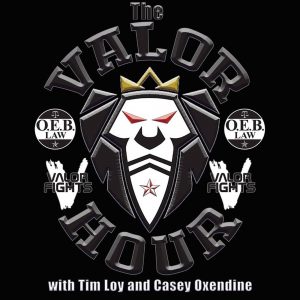 The UMMAF National Championship Tournament took place last weekend at the Elizabethton High School in Elizabethton, Tennessee and this week's episode of "The Valor Hour" is the official recap podcast of the event. Tim and Casey are joined by special guest co-host Mark Laws to help break down this event as they let you know which fighters have advanced to the World Tournament later this year in Bahrain.
Now before they get into recapping the event, the guys are joined by four fighters to discuss their tournament winning victories. First, they bring in Genia Goodin (3:24) to talk about winning the female strawweight tournament and what happened in the final of that tournament. Next, they are joined by Billy Swanson (11:29) to discuss the heavyweight tournament and he talks about the head kick he threw in the fight. Then, Chase Boutwell (23:16) talks about winning the bantamweight tournament and how his hometown has reacted to him advancing to the world tournament. And in the final fighter interview, they chat with super heavyweight Michael Snapp (32:38) about winning his tournament and his plans for the world championships in the fall.
After hearing from Snapp, UMMAF South East Director Justin Brown (41:13) comes on the podcast to give his thoughts on what happened last weekend at the National Tournament. After having a twenty minute conversation with Justin, they guys breakdown all of the tournaments and give their thoughts on all of the fights.
Follow Valor Fights on Twitter: @ValorFights
Follow Tim Loy on Twitter: @TzLoy
Follow Casey Oxendine on Twitter: @CaseyOxendine
Subscribe to The Valor Hour on iTunes, Stitcher, and Google Play
Podcast: Play in new window | Download | Embed