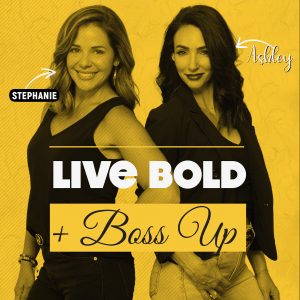 Steph & Ash talk this week live at Synapse with Ashley T. Brundage, the Founder and President of Empowering Differences. While seeking employment at a major financial institution, Ashley self-identified during the interview process as a male to female transgender woman and subsequently was hired. Starting as a part-time teller, she rose to VP of Diversity and Inclusion in less than 5 years. She captured this 4-step process of using empowerment to cultivate change in her new book and online course. Ashley credits her success to those closest to her for providing actionable allyship including her two teenage sons, Bryce and Blake.
BOSS BITES
There are 10 Empowering Actions you can take to empower and elevate yourself or your company.
Follow these 4 Empowering steps you can take now to achieve what you want and reach your goals.
Let us know if you have any recommendations or any tricks to boss up and stay elevated. Email us at
Follow us on Instagram to get the latest news and notes about the podcast!
Make sure to check out the Live Bold And Boss Up show archives at Radio Influence and subscribe to the show on Apple Podcasts, Stitcher, Google Podcasts, TuneIn Radio, the iHeartRadio app, and Spotify!
Podcast: Play in new window | Download | Embed