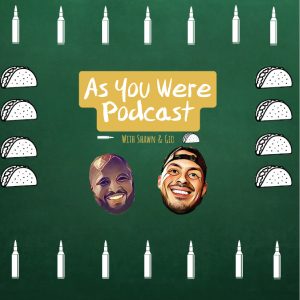 Shawn and Gio discuss the societal norm of praising the good deeds of your "side" of the battle and staying radio silent when negatives are brought to light. Can we unsee the bad if it was a necessary evil? Or is it our duty as citizens to call out all wrongdoings?
Thanks for listening to this episode of the As You Were Podcast and if you have a comment for a future episode, leave a comment below and show your support for the show by leaving a rating and review on Apple Podcasts.
Subscribe, Rate and Review to "As You Were Podcast" on Apple Podcasts, iHeartRadio, Spotify, Stitcher, Google Podcasts, or TuneIn Radio.
Podcast: Play in new window | Download | Embed