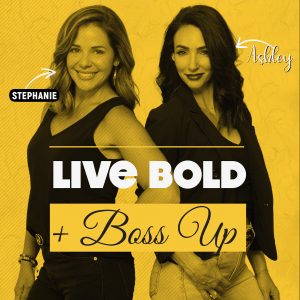 Steph and Ash review their TOP 10 things to do NOW to be set up for success in 2021.
1. Take care of yourself, be healthy. Exercise and eat healthy. This is the first thing you should plan for, because if you don't take care of yourself, then you won't be successful in other areas either.
2. Plan financially: invest, pay off loans, save a little bit each month, etc.
3. Write letters to 3 people that you are grateful for.
4. Find at least one non-profit to dedicate your time to.
5. Add value every day (write it down at the end of the day!)
6. Be mindful/spiritual – take up yoga, meditate, read books to fill that spiritual bucket.
7. Schedule family time & BE PRESENT – put your phone away.
8. Take a Break – go on a vacation, staycation, take a hike, get some fresh air!
9. Be Grateful & Appreciate – write 5 things that you are grateful for at the beginning or end of each day.
10. Slow Down to Speed Up – Take 30 mins each day to visualize & plan for the day. Seems counterintuitive, but you will get more done each day by doing this.
Happy 2021!
Follow us on Instagram to get the latest news and notes about the podcast!
Make sure to check out the Live Bold And Boss Up show archives at Radio Influence and subscribe to the show on Apple Podcasts, Stitcher, Google Podcasts, TuneIn Radio, the iHeartRadio app, and Spotify!
Podcast: Play in new window | Download | Embed