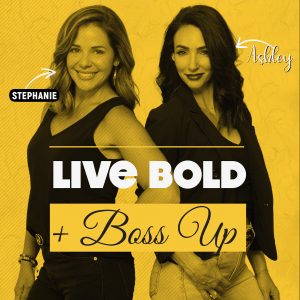 Steph and Ash chat with ultimate Boss Babe, Kari LaRocco, this week! Kari is a business owner, financial advisor, and why not throw a full Ironman (2.4 mi swim, 112 mi bike, 26.2 mi run) on top of it! Not to mentioned she has climbed Mt. Kilimanjaro as well! Her vision is casual affluence, intentional living, and to focus is the "F" words!
Boss Bites
• You are ENOUGH!
• Arm yourself with the F Word: Financial, Fitness, Future, Fashion, Family, Friends, Female, Freedom
• Being financially fit is integrated with being physically fit – they go hand in hand
• Do something active every day
Follow us on Instagram to get the latest news and notes about the podcast!
Make sure to check out the Live Bold And Boss Up show archives at Radio Influence and subscribe to the show on Apple Podcasts, Stitcher, Google Podcasts, TuneIn Radio, the iHeartRadio app, and Spotify!
Podcast: Play in new window | Download | Embed