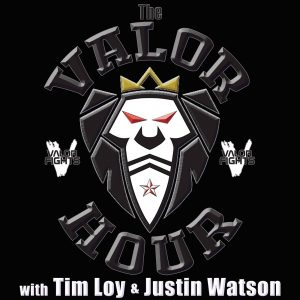 This week on The Valor Hour, Valor Fighting Challenge matchmaker Tim Loy and Justin Watson chat with Valor Fighting Challenge 75 fighter Shawn Nickell and then are joined by Greg Hopkins, Jeff Hobbs, and Chad Finnerty for a full breakdown and picks panel for Friday night's VFC 75 at the Cotton Eyed Joe in Knoxville, TN. Get your tickets now!
Here's the full fight card for VFC 75:
Main Event: CJ Baker v Julian "Pook" Goines (VFC Heavyweight Title Fight)
Feature Fight: Garrett Sharp v Andrew Sturdivant (VFC Featherweight Title Fight)
Feature Fight: Kyle Lindner v Ray Hewlett (VFC Flyweight Title Fight)
Caleb Holt v Lee Radford (195 lbs Catchweight)
Sam Kilmer v Matt Coakley (145 lbs)
Ryan Camp v Parker Wadman (155 lbs)
Tristan Scarborough v Josh Cumbee (205 lbs – #1 Contender Fight)
Jacob Romano v Jackson Donovan (135 lbs)
Shawn Milks v Seldon Wright (170 lbs)
Sean Peregoy v Anthony Cochran (135 lbs)
DeAngelo Johnson v CJ Tallent (205 lbs)
Russell House v Nick Wigley (145 lbs)
Hunter Spring v George Lo (185 lbs)
David Ciuclea v Josh Denham (265 lbs)
Antonio Holt v John Hampton (220 lbs)
Jake Johnson v John Lamia (135 lbs)
Bradley Breakfield v Shawn Nickell (145 lbs)
Isaac Allmon v Taylor Rodrigue (165 lbs)
Autin Nations v Tyler Hampton (170 lbs)
Budd Cook v Joseph Hishmen (145 lbs)
Peyton Goten v Tristan Pack (155 lbs)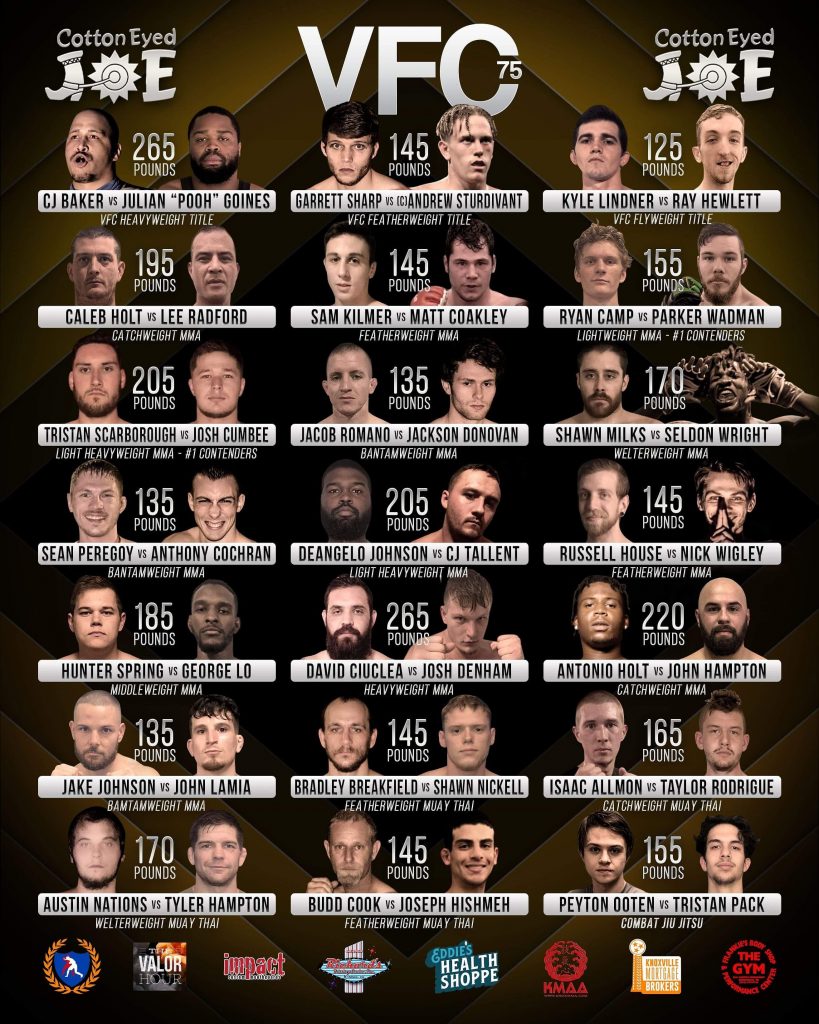 Subscribe to The Valor Hour on Apple Podcasts, Stitcher, TuneIn Radio, Google Play, the iHeartRadio app, and now on Spotify!
Podcast: Play in new window | Download | Embed