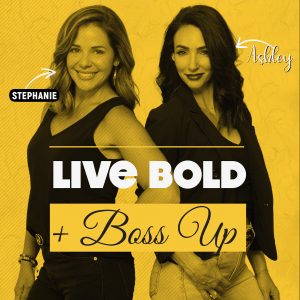 Steph and Ash talk today with entrepreneur, business owner, health fanatic, and mother, Lauren McComb. Lauren shares how she gets her inspiration and works towards her goals. Vision Boards are a great way to visualize your goals and manifest your future. Lauren opened 4 Pure Barre studios, is very successful with a global business venture called Prüvit, and created her own brand, Lauren McComb Fit.
Boss Bites
• Start off each day with gratitude. Send 5 texts to people that you are grateful for every morning.
• Start a vision board by picking up a poster board and collecting some magazines. Cut out images that speak to you. It's not just about material things.
• You can have multiple vision boards…personal, professional, family, and Yes…a board with your partner!
• Keep your vision board someplace where you will see it every day and incorporate it into your daily life.
• Make BHAGS "Big Hairy Audacious Goals"!!
• Do one thing each day that scares you.
• Great read – "Rhinoceros Success" by Scott Alexander
• Building a Social Media empire is built with consistency, authenticity, an open mind, lifting up others, and collaboration.
Follow us on Instagram to get the latest news and notes about the podcast!
Make sure to check out the Live Bold And Boss Up show archives at Radio Influence and subscribe to the show on Apple Podcasts, Stitcher, Google Podcasts, TuneIn Radio, the iHeartRadio app, and Spotify!
Podcast: Play in new window | Download | Embed