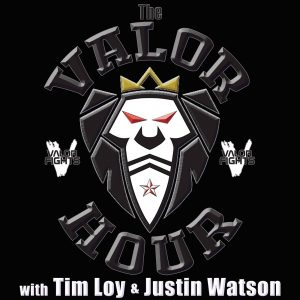 This week on The Valor Hour, Valor Fighting Challenge's matchmaker Tim Loy, Justin Watson, and Greg Hopkins are joined by Paul Teague and Jeff Hobbs to preview this Friday evening's VFC 70 card, which happens at the Cotton Eyed Joe in Knoxville, TN. For tickets, click here.
Also, you'll hear from Tank Wilson Jr., who battles Jared Short in Friday night's main event.
Here's the full card for VFC 70:
Grappling: Nick Englehardt v Harry Spence
Grappling: Eli Norris v Lincoln Grubb
Grappling (145 lbs): Hannah Elswick v Katie Ogle
Light Heavyweight Muay Thai (205 lbs): Mike Miller v Cody Russell
Featherweight MMA (145 lbs): Chris Weathers v Elijah Gilbertson
Flyweight MMA (125 lbs): Austin Spires v Ray Hewlett
Catchweight MMA (150 lbs): Cody Stuart v Jason Davis
Lightweight MMA (155 lbs): Damien Hamlin v Anthony Cochran
Lightweight MMA (155 lbs): Scott Henderson v Parker Wadman
Catchweight MMA (175 lbs): Christian Le v Darren Hastings
Catchweight MMA (195 lbs): Drew Czornohus v Tommy Waller
Lightweight MMA (155 lbs): Andrew Havener v Dan Boehle
Feature Bout – Bantamweight MMA (135 lbs): Bradley Breakfield vs Jackson Donovan
Co-Main Event – Catchweight MMA (150 lbs): Joel Winters v Garrett Sharp
Main Event – Light Heavyweight MMA (205 lbs): Jared Short v Tank Wilson Jr
Subscribe to The Valor Hour on Apple Podcasts, Stitcher, TuneIn Radio, Google Play, and now on the iHeartRadio app!
Podcast: Play in new window | Download | Embed