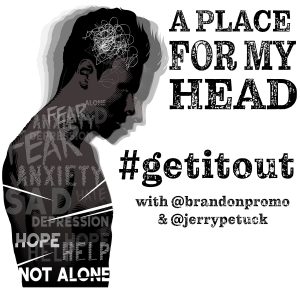 In 2007, host Jerry Petuck went through a life changing medical trauma that came within 90 minutes of killing him. Physical, mentally, emotionally, and any other way you can think of…..the near deadly situation changed his life forever.
For the first time, Petuck speaks publicly about the entire situation, the story of recovery, rebounding, and trying to make sense of a senseless situation.
The story is unbelievable but he talks about trying to find positives through all the negative and how life can change in the blink of an eye.
If you feel you are in crisis, please call the National Suicide Prevention Lifeline at 1.800.273.TALK (8255).
Follow us on social media:
A Place For My Head: Website Facebook
Brandon Thompson: Facebook Instagram Twitter
Jerry Petuck: Facebook Instagram Twitter
Make sure to visit the A Place For My Head website!
Subscribe, rate, and review A Place For My Head on Apple Podcasts, Stitcher, TuneIn Radio, Google Podcasts, iHeartRadio, and Radio Influence.com!
Podcast: Play in new window | Download | Embed