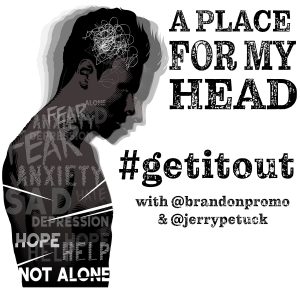 This week on A Place For My Head, Brandon Thompson shares his journey in finding good mental health and shares stories about the hurdles and pitfalls he's faced through the process. He discusses the issues he had with initially going to a primary care physician to seek treatment, finding the right treatment and medications, keeping everything balanced, and more.
The thing to keep in mind while listening is to understand that if something didn't work for him, it doesn't mean it won't work for you. Don't be afraid to get treatment to help get your head in a better place.
If you feel you are in crisis, please call the National Suicide Prevention Lifeline at 1.800.273.TALK (8255).
Follow us on social media:
A Place For My Head: Website Facebook
Brandon Thompson: Facebook Instagram Twitter
Jerry Petuck: Facebook Instagram Twitter
Make sure to visit the A Place For My Head website!
Subscribe, rate, and review A Place For My Head on Apple Podcasts, Stitcher, TuneIn Radio, Google Podcasts, iHeartRadio, and Radio Influence.com!
Podcast: Play in new window | Download | Embed