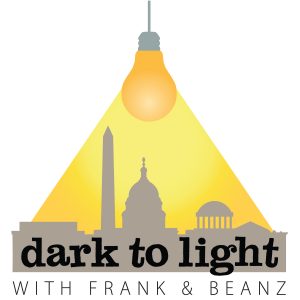 On today's edition of Dark To Light, Frank and Tracy Beanz start the show by talking about a really terrifying incident at the Willard Hotel this past weekend. Democrats, all middle aged, attacked a group of Trump supporters who were minding their business at their Christmas party and one of those people assaulted a veteran SEAL and ended up in jail.
That brings the pair into impeachment, where they talk about the breaking news that Jerry Nadler has released the House Judiciary report on the matter, and then it is on to sanctimonious Jim Comey, Adam Schiff, and the rest of the crew.
Also, make sure to tune in to hear the upcoming podcast schedule for the Holidays!
LINKS WE COVERED
A Twitter thread from a witness of the incident at the Willard Hotel
Tracy Beanz YouTube: The Landscape – Explained
Fox News' Dan Bongino rips into James Comey
James Comey: "I was wrong to say FISA process was followed."
Follow Tracy Beanz on Twitter, subscribe to her YouTube channel, and check out her newest venture, UncoverDC.com!
Follow Frank on Twitter, subscribe to his YouTube channel, and follow his solo podcast, Quite Frankly!
Subscribe to Dark To Light With Frank & Beanz on Apple Podcasts, Stitcher, TuneIn Radio, Google Play, and now on the iHeartRadio app!
Podcast: Play in new window | Download | Embed