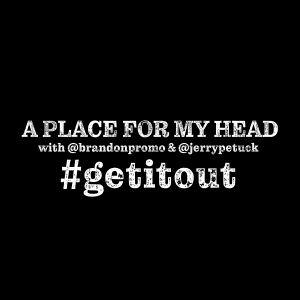 This week on A Place For My Head, hosts Brandon Thompson and Jerry Petuck talk about the toll the holidays can take on your mental health, some of their own experiences, and some things they've done to get through it.
There are a lot of people who struggle around the holidays for various reasons. Whether it's in their control or not, it doesn't really matter. It only takes a few moments to reach out to those people to check up on them. Sometimes, that's all it takes to change things and turn things around.
If you feel you are in crisis, please call the National Suicide Prevention Lifeline at 1.800.273.TALK (8255).
Follow us on social media:
A Place For My Head: Website Facebook
Brandon Thompson: Facebook Instagram Twitter
Jerry Petuck: Facebook Instagram Twitter
Make sure to visit the A Place For My Head website!
Subscribe, rate, and review A Place For My Head on Apple Podcasts, Stitcher, TuneIn Radio, Google Podcasts, iHeartRadio, and Radio Influence.com!
Podcast: Play in new window | Download | Embed