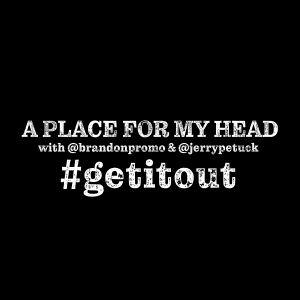 This week on A Place For My Head, hosts Brandon Thompson and Jerry Petuck are joined by the author of "The Broken Road To Mental Health: In Life And Business," Sharon Fekete.
Sharon shares her incredible journey to sobriety and shares some things that she's done to help her overcoming her battles with addiction, depression, and two suicide attempts.
The cool thing about Sharon is that she released her book on the 25th anniversary of her sobriety.
It's a great conversation on a myriad of topics.
Thanks for downloading and listening! If you enjoy what we do, please rate and review the show wherever you listen! We always love feedback!
If you feel you are in crisis, please call the National Suicide Prevention Lifeline at 1.800.273.TALK (8255).
Follow us on social media:
A Place For My Head: Website Facebook
Brandon Thompson: Facebook Instagram Twitter
Jerry Petuck: Facebook Instagram Twitter
Subscribe, rate, and review A Place For My Head on Apple Podcasts, Stitcher, TuneIn Radio, Google Podcasts, the iHeartRadio app, and Radio Influence.com!
Podcast: Play in new window | Download | Embed