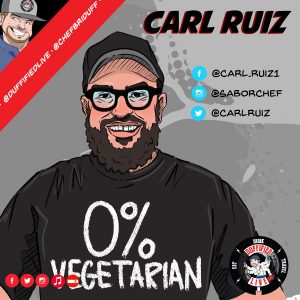 Its a sad week for most of us in the culinary world & even in the world of social media… a friend has passed away & it happened at a very young age, 44 to be exact.
Chef Carl Ruiz, a dude that I got to know over the last year & felt lucky enough to be able to call him a friend.
A few months ago I had the honor of chatting with Carl after a crazy lunch in Philly @ the reading terminal market, where I witnessed the beginnings of the world of #Ruizing.
Carl had an infectious almost boyish personality, his laugh & comments made people stop & listen & its one of the reasons that I wanted to air this episode one more time. I feel that we bonded a bit on this episode & im really honored to say that I had the opportunity to spend some time with him.
Follow Chef Brian Duffy on Twitter and on Facebook.
Check out his website to learn more about him, to find his products, and some incredible recipes!
Subscribe to the show on iTunes and Stitcher and don't forget to rate and review the show.
Podcast: Play in new window | Download | Embed