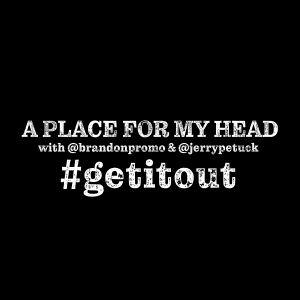 According to the CDC and World Health Organization, approximately 123 Americans commit suicide a day. There is a suicide every 12 minutes. Even scarier, for every one suicide, there are 25 people who survive their attempts.
It doesn't affect one age group or race. It affects everyone. Anyone who says that suicide is a selfish act couldn't be more wrong if they tried.
This week on A Place For My Head, hosts Brandon Thompson and Jerry Petuck open the conversation about suicide, share some rather personal stories, and more.
Also, you'll hear Chester Bennington's last interview before his death, which will leave in chills.
Giving you fair warning, there may be some triggers in this week's episode.
Thanks for downloading and listening!
If you feel you are in crisis, please call the National Suicide Prevention Lifeline at 1.800.273.TALK (8255).
Follow us on social media:
A Place For My Head: Website Facebook
Brandon Thompson: Facebook Instagram Twitter
Jerry Petuck: Facebook Instagram Twitter
Subscribe, rate, and review A Place For My Head on Apple Podcasts, Stitcher, TuneIn Radio, Google Podcasts, and Radio Influence.com!
Podcast: Play in new window | Download | Embed