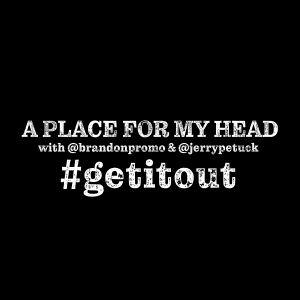 This week on A Place For My Head, hosts Brandon Thompson and Jerry Petuck are "Addressing The Demons."
The guys discuss how this first post that Brandon ever made on APlaceForMyHead.com jump started this entire project, their own experiences with how anxiety, depression, and bipolar disorder has affected their own mental health.
They also hit on abuse they each struggled with as children and the long term affects it's had on their lives.
Thanks for downloading and listening!
If you feel you are in crisis, please call the National Suicide Prevention Lifeline at 1.800.273.TALK (8255).
Follow us on social media:
A Place For My Head: Website Facebook
Brandon Thompson: Facebook Instagram Twitter
Jerry Petuck: Facebook Instagram Twitter
Subscribe, rate, and review A Place For My Head on Apple Podcasts, Stitcher, TuneIn Radio, Google Podcasts, and Radio Influence.com!
Podcast: Play in new window | Download | Embed